News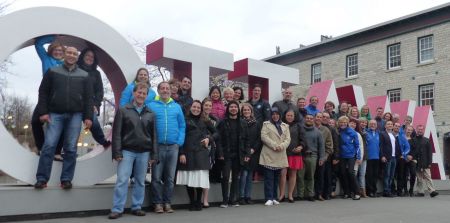 FIG GfA COLLOQUIUM 2018 IN OTTAWA
Every year the FIG Gymnastics for All committee organizes a Colloquium where all FIG Member Federations and FIG Continental Unions are invited to participate. This year the meeting took place in Ottawa, Canada's capital city, being held April, 25th to 29th.
Marie-Louise Hinterauer, Eva Thurnher and Erwin Reis (representatives of the LOC Dornbirn) participated at such event and took the opportunity to promote and inform all participants about the current planning of the World Gymnaestrada 2019 as well as to share the latest news.
The official presentation of the World Team 2019 (motto: "We celebrate all colours from all over the world") by the choreographers Britta Hafner and Anne Thaeter was part of the FIG GfA Colloquium as well.
World Team choreography available!
As already announced in Bulletin 3, the entire instruction material for learning the World Team choreography (training video from three different perspectives, choreography instructions in writing, World Team music in MP3-format, promotion video) can be downloaded with immediate effect from the World Team page. Have fun with your training sessions!
Bulletin 3 / Provisional Registration
Bulletin 3 is now published and ready to be downloaded. Bulletin 3 is based on the previous Bulletins (Bulletin 1 and Bulletin 2) and is supplemented with additional new information. The advantage is that the previous version can be disposed of. There is no need of scrolling, searching or comparing the information. All the latest information consolidated in this brand-new Bulletin 3!
In addition to that the Provisional Registration has just been activated in Gymnaplana. Such next registration step can be done until July 7th, 2018.