Welcome to the World Gymnaestrada 2019!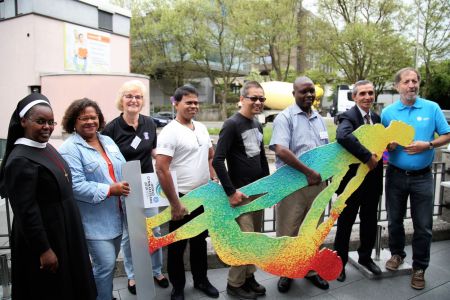 In Memory of Albert Ching Yin Chun
We are very sorry to hear that our dear friend Albert has passed away. We are all deeply touched by this sad news and would like to express our sincerest condolences to his beloved family, friends and his gymnastics friends from all over the world. This is truly a big loss for the Gymnastics Federation of Malta. Our thoughts and prayers are with you during this difficult time.
Albert, you will never be forgotten!
European Festival
On Friday, 25th of May, the first edition of the European Festival in Dornbirn attracted many visitors to the market square in Dornbirn where representatives from ten different nations offered delicacies and typical products of their regions. Thereby, every guest was spoiled in both culinary and musical ways. The World Gymnaestrada 2019 joined in as well and was represented with an information booth since the European countries are traditionally amongst the biggest nations to participate in such largest gymnastics festival in the world. The strong frequency of the World Gymnaestrada booth was a clear sign that the population of Vorarlberg is again already very much looking forward welcoming our guests from all over the world in "their" national villages!
1st national village meeting in Dornbirn
On Wednesday, the 23rd of May the first meeting of all the representatives from the national villages with the LOC took place in the Stadium Birkenwiese. During the evening the responsible persons from approx. 20 national villages were informed about the current organisational status and could ask their questions concerning accommodation, catering and taking care of up to 17,000 participants who plan to stay in schools.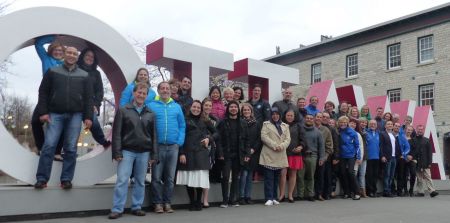 FIG GfA COLLOQUIUM 2018 IN OTTAWA
Every year the FIG Gymnastics for All committee organizes a Colloquium where all FIG Member Federations and FIG Continental Unions are invited to participate. This year the meeting took place in Ottawa, Canada's capital city, being held April, 25th to 29th.
Marie-Louise Hinterauer, Eva Thurnher and Erwin Reis (representatives of the LOC Dornbirn) participated at such event and took the opportunity to promote and inform all participants about the current planning of the World Gymnaestrada 2019 as well as to share the latest news.
The official presentation of the World Team 2019 (motto: "We celebrate all colours from all over the world") by the choreographers Britta Hafner and Anne Thaeter was part of the FIG GfA Colloquium as well.
World Team choreography available!
As already announced in Bulletin 3, the entire instruction material for learning the World Team choreography (training video from three different perspectives, choreography instructions in writing, World Team music in MP3-format, promotion video) can be downloaded with immediate effect from the World Team page. Have fun with your training sessions!